"My Friend the Whale" – Emotional Connectedness and Willingness to Behave Pro-Environmentally in Whale Watchers
"My Friend the Whale" is the title of our exciting study in environmental psychology, conducted together with Dr. Jonas Rees of the University of Bielefeld (Germany) and onboard Láki Tours.
As watching whales and dolphins can evoke strong positive emotions, we investigated the willingness to act on behalf of these animals in a protective manner after meeting them eye to eye. Between December 2015 and April 2016, we collected a total of 751 answers from passengers on their opinions and values concerning environmental protection and cetacean conservation.
The study was presented by Dr. Rees at the IAPS24 (International Association People-Environment Study) in Lund, Sweden, in June 2016. You can find a first overview on the study here: Rees & Mrusczok, My Friend the Whale. During a trial run in summer 2015, 406 passengers were interviewed. We thank all Láki Tours crew members, DTW guides Alexa Kershaw and Cathy Harlow, and all participating passengers for their cooperation on the project both in summer and winter.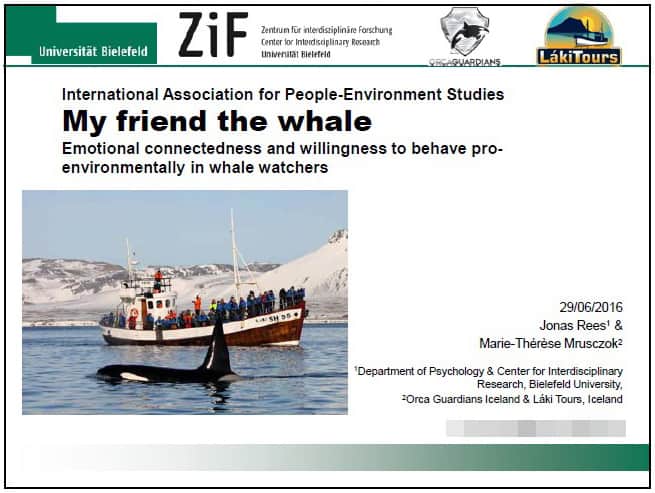 Sperm Whale Photo-Identification and Migration Patterns in the North Atlantic
We are currently contributing identification images of sperm whales that we have collected since 2014 to a long-term study on sperm whales in the North Atlantic, led by Evert Mul at the University of Tromsø (Norway).
Individual sperm whales are recognized by the unique shape and markings on their fluke, such as scars, nicks, and various pigmentation patterns. So far, we have submitted over 2.000 identification images that we collected between 2014 and 2017, mostly during the summer months. The fluke ID pictures we are sending in to Evert are compared with thousands of other images from Norway, Madeira, and countries where sperm whales occasionally strand, such as the UK, the Netherlands, France, Germany, and Denmark.
The pictures might be useful to identify where stranded sperm whales have been observed before, but mostly also to construct a North East Atlantic sperm whale identification catalogue, and to find out about migration patterns of these magnificent giants of the sea. The project ultimately aims at developing an online catalogue accessible to the public.