Raising Public Awareness
First International Naming Contest – Orca Calf "Tide" (SN199)
On the 14th of November 2016, we started our first international naming contest for the calf of female Vendetta (SN069, also known as Mousa). Vendetta/Mousa and her core group migrate between Iceland and Scotland – they can be spotted in West Iceland between November and March, and are then often recorded along the Scottish shoreline in May.
In 2015, we had spotted the group on the 22nd of December, and recorded a new-born calf on Mousa's side. The calf could have been just a few weeks old, as it still displayed foetal folds on the side of the body, along with a strong coloration of the eye patches. We spotted the calf again in March 2016, and the group was then also seen in Scotland during the summertime.
When they returned back to Icelandic shores on the 9th of November 2016, we were delighted to see how much the calf had grown. To symbolically celebrate the calf's "first birthday" (as it was now approximately one year old), and to avoid double-naming from both Scotland and Iceland, we hosted an international naming contest to give him or her a unisex name. We received over 150 creative name suggestions in many different languages, and our jury, which consisted of judges from the Scottish Wildlife Trust's Living Seas Project, Caithness Sea Watching, Shetland Wildlife Tours, and Orca Guardians Iceland, chose the four finalists from these suggestions, which were then given for public vote to decide for the winner via our Facebook page.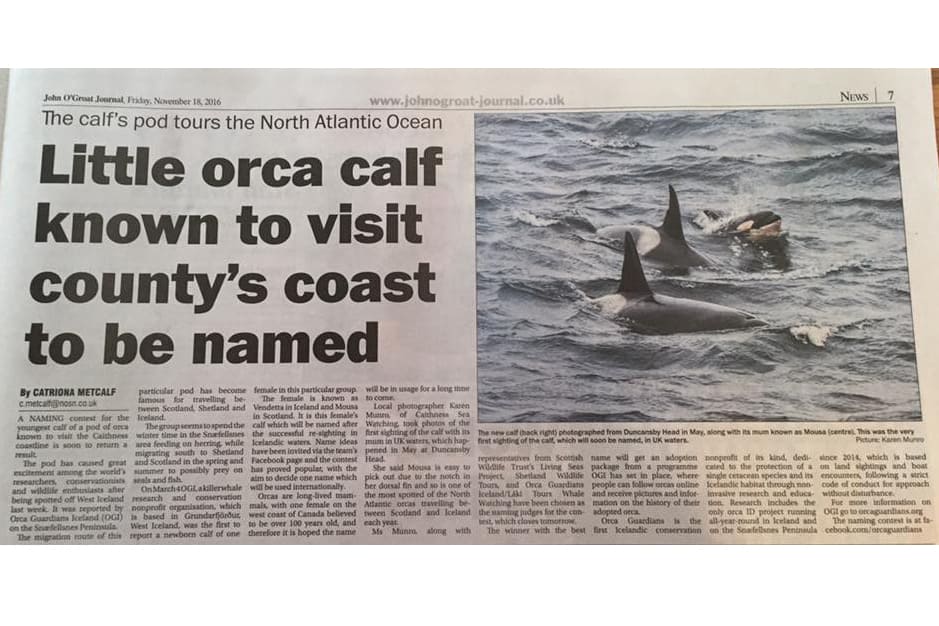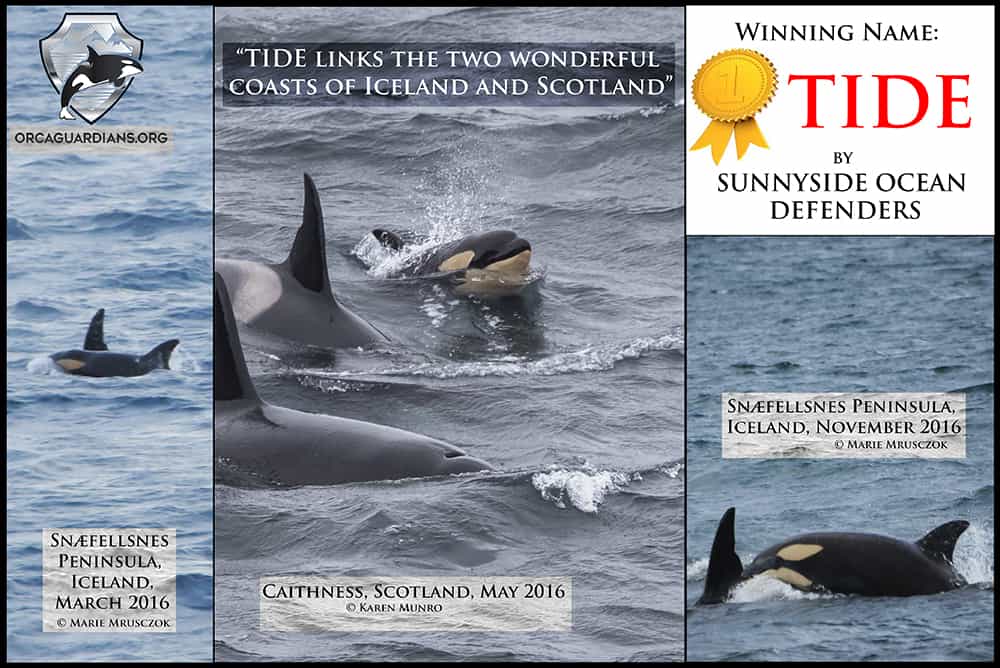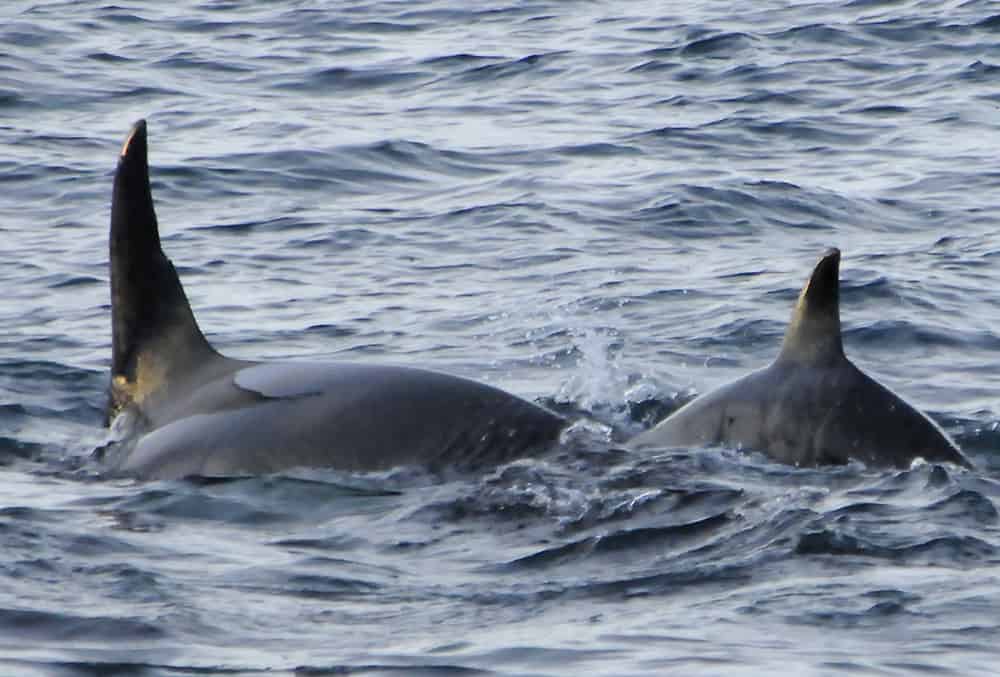 Vendetta (SN069) and Calf with Foetal Folds in December 2015

While ongoing, the contest was covered both in online and print issues of news agencies in the UK and Iceland, and even made it into the Icelandic national news. We received over 1,100 votes, with a clear result at the end: The name "Tide" had gotten the most votes and won the competition. It had been suggested by the "Sunnyside Ocean Defenders", the 25 oldest pupils (age 10-11) at Sunnyside Primary School (Glasgow), who are campaigning for the protection of whales and dolphins, are involved in beach clean-ups, and are raising awareness on cetacean conservation issues as part of their curriculum. Their competition entry read as follows:
"We feel that the 'Tide' is something that touches us all. We like that 'Tide' links the two wonderful coasts of Iceland and Scotland. Like the 'Tide', this pod will visit both our shores, coming and going between us. No man can control the 'Tide', so we think this represents the calf's independence and freedom. Also, this new life comes at hopefully a changing of the 'Tide' of opinion toward their kin in captivity."
When the kids received the news that they had won the competition, their excitement resulted in an even more intense involvement with the topic. They coined the slogan "Swim straight, Tide. Swim free!" and hand-painted orca baubles about "Tide" to sell at the local fare around Christmas time to raise funds for BDMLR (British Divers Marine Life Rescue). Members of the class even recorded an official thank-you video, which we were allowed to display on our website. The class was awarded a free adoption package from our adoption program, and chose to adopt Floppy (SN090).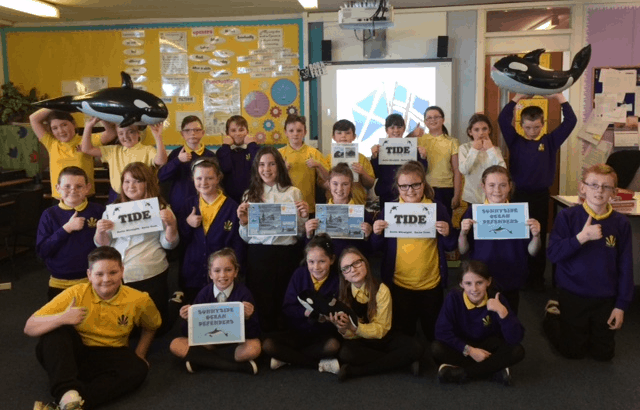 The "Sunnyside Ocean Defenders" Class of 2016/2017 after Winning the Naming Contest
https://twitter.com/SunnysidePri/status/802168459165634560
Hayden from the Sunnyside Ocean Defenders, who had the idea for the winning name, told us this:
"When the name Tide was chosen I was really excited that we had won. Now I've had time to really think about it, I am honoured and proud that such a magnificent species of animal will be swimming free with the name Tide for the next 50 plus years. I think he or she will think it's a cool name that will last the test of time. After all, Time and Tide wait for no man."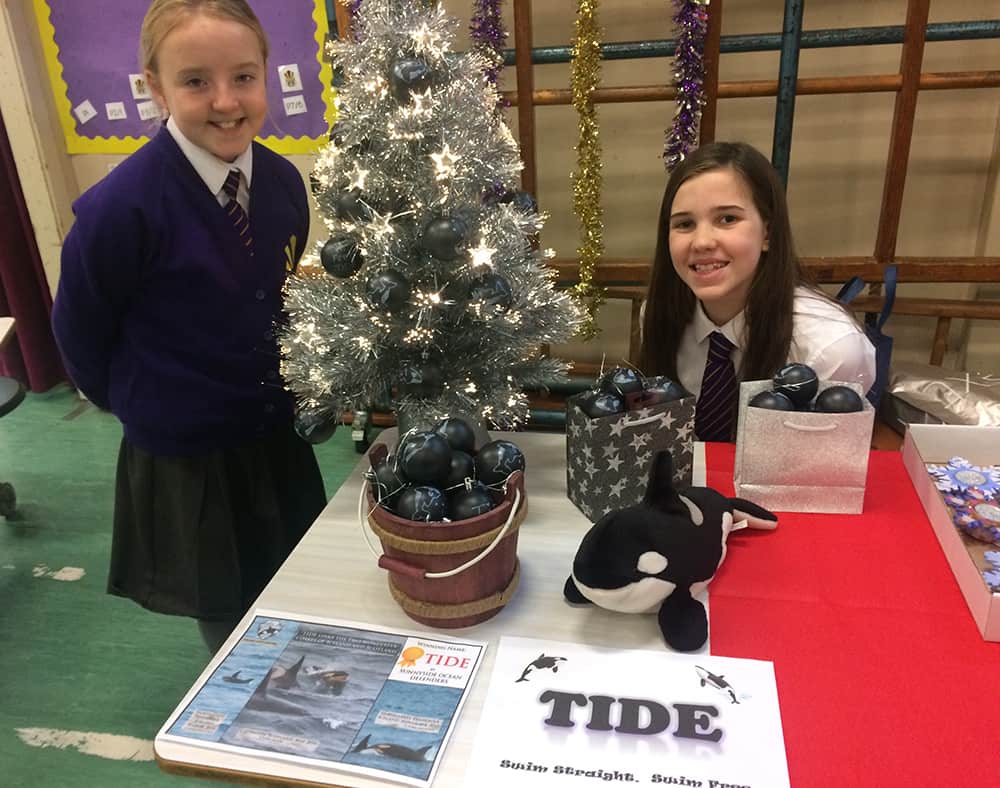 The Kids at Their Local Fare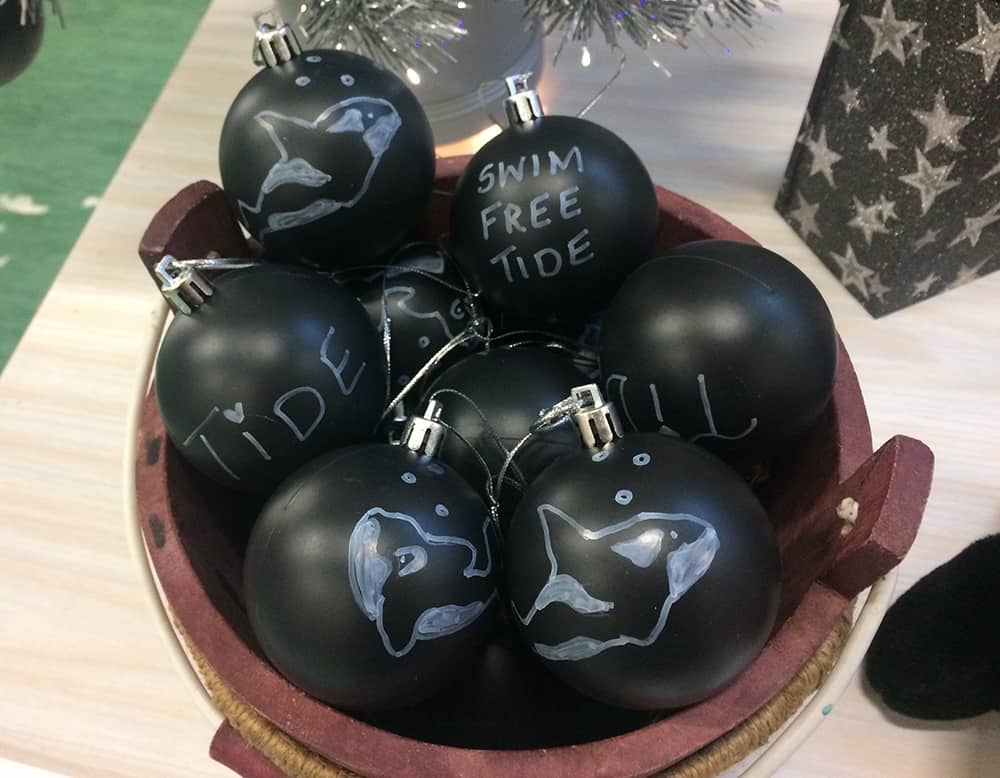 The "Tide" Baubles
Second International Naming Contest – Orca Calf "Tili" (SN201)
Our first international naming contest was an incredible success and great awareness-raiser to inspire young and old to help protect orcas around the globe. And our second international naming contest, which started on the 4th of May, 2017, was no less exciting! This time, we named the calf of Scottish/Icelandic orca female SN200 (also known as 012 in Scotland). The calf (SN201) was first spotted on the 20th of November, 2016, when we witnessed a big get-together of the core groups of Mousa/Vendetta (SN069), Nótt (SN067), and SN200 in Breiðafjörður (West Iceland). All these individuals are known to travel between Iceland and Scotland, and we are often jokingly referring to this day as the "Scottish invasion". You can find detailed information on these groups here.
The calf of SN200 was considerably smaller than newly named calf Tide, and both of them were seen travelling either next to each other or close to their mothers. During the summer months, SN200 and her calf were then first spotted again in Shetland, right at the time when we were holding the contest!
In our search for a unisex name we were joined and supported by a wide array of organizations both from the UK and Iceland. Our online event was open to the public and hosted in collaboration with Living Seas Northwest Highlands, Caithness Sea Watching, Shetland Wildlife, Sea Watch Foundation, British Divers Marine Life Rescue, the Hebridean Whale and Dolphin Trust, Láki Tours, Special Tours, and Yakari-Travel. We are grateful for their support, which made this contest yet another success, reaching even more people across countries.
The first part of the competition resulted in a total of 210 unique name suggestions, from which our judges – coming from the same organizations as in the first contest – yet again had to pick 4 finalists. The names "Sora", "Domino", "Kelpie" and "Tili" were given for public vote in the second part of the contest, which closed on the 19th of May, 2017.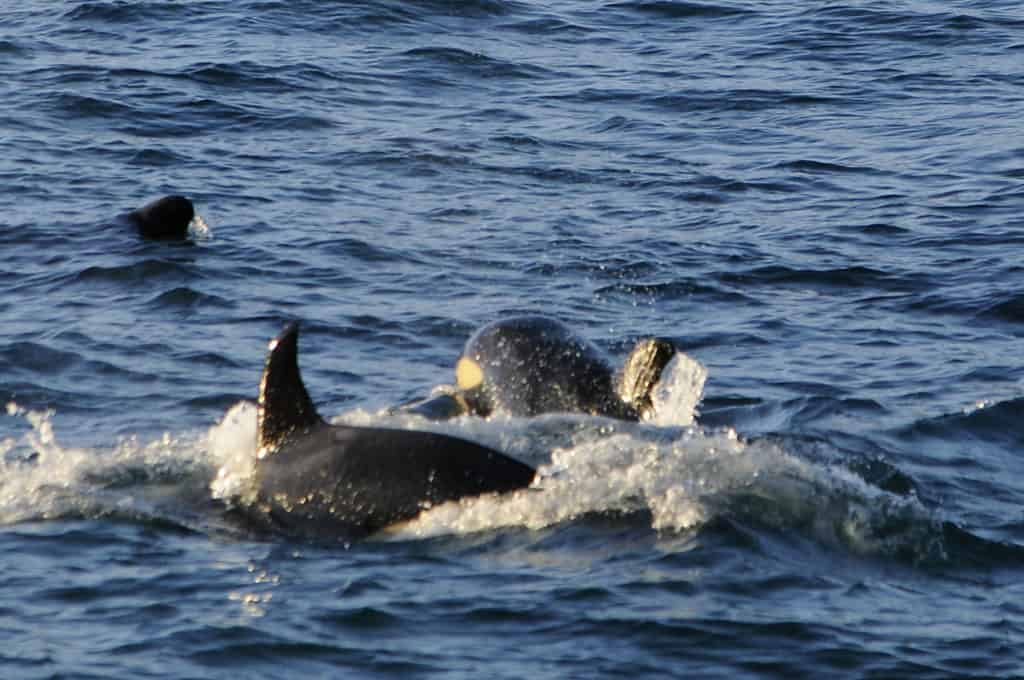 Tide (SN199) and Tili (SN201) Travelling Side by Side in November 2016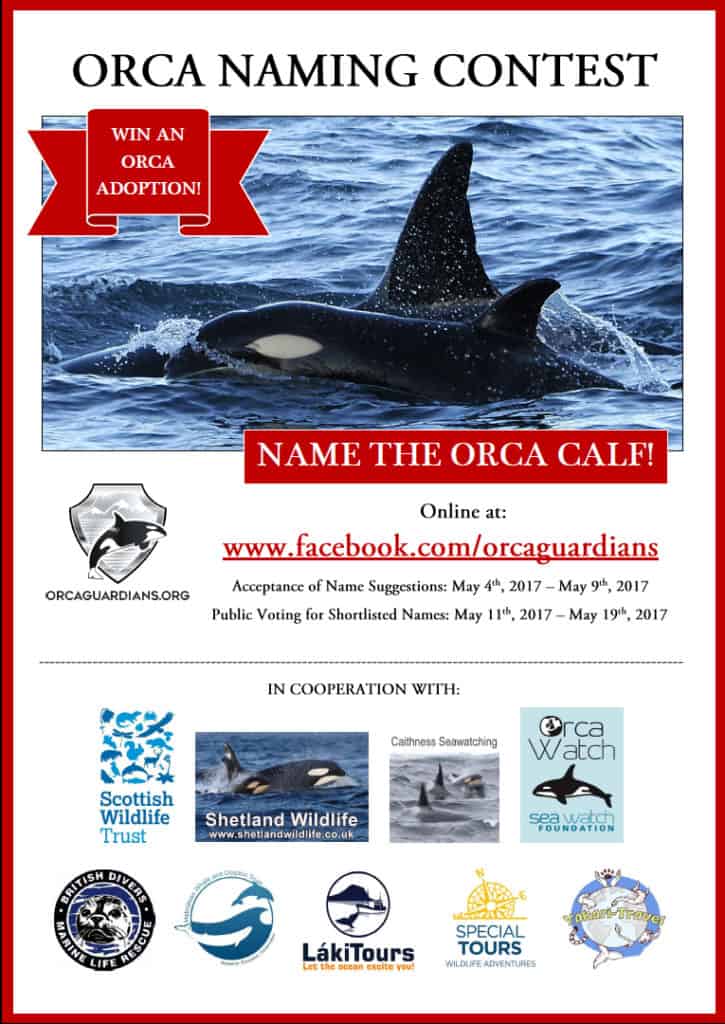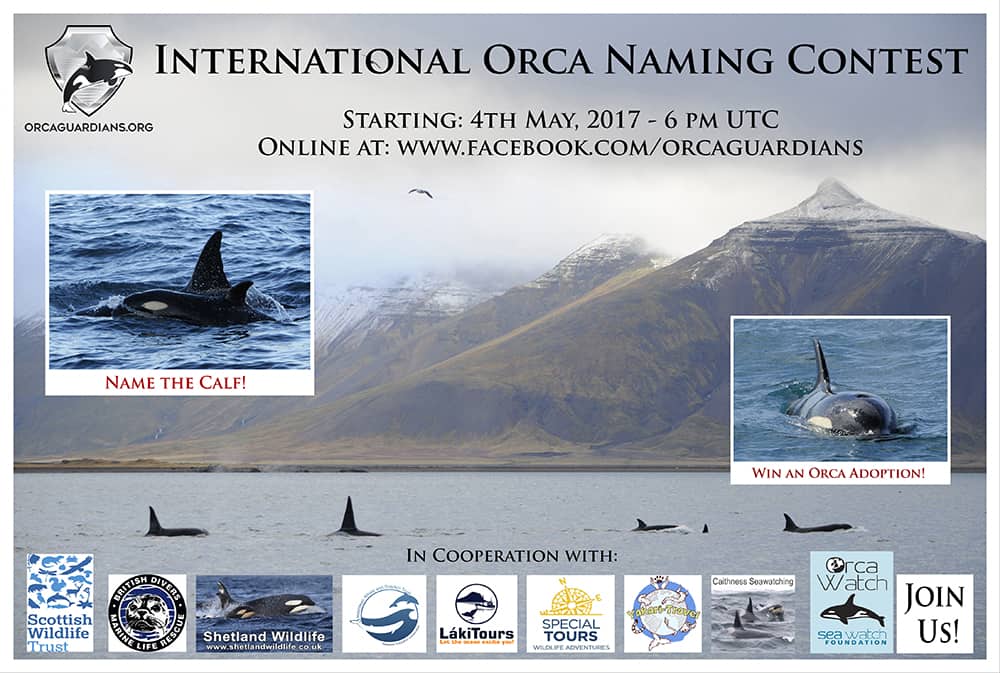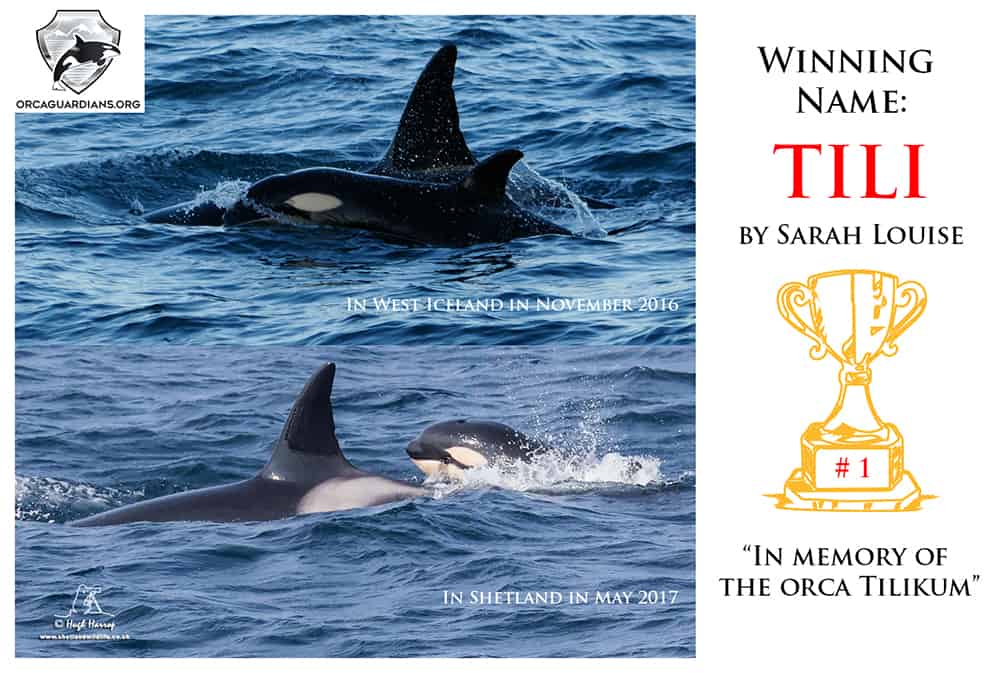 702 voters then decided over the winner. The name "Tili" won the competition, and was suggested by UK participant Sarah Louise, "in memory of the orca Tilikum, who died far too young and never got a taste of freedom". She chose to adopt juvenile Katla (SN058) as a reward. The naming contest was, once again, covered in both the Icelandic and Scottish news, and was leading up to "Orca Watch Week" in Scotland – an annual event where wildlife enthusiasts watch out for orcas from shore, to celebrate their arrival on the Scottish coast for the summer months.