Kid's Testimonials
When children have extraordinary encounters with wildlife, these moments often shape a lifetime of deep love and affection for the animals, as well as the will to protect and learn about them. In the past, we witnessed many of these moments between kids and orcas, and we hope there are many more to come. Below you will find examples of how children and teenagers got involved in naming some of our orcas after they spotted them. Enjoy!
Dan, Alannah, Jude and "Black Ice"
Dan (13 years old), Alannah (11 years old) and Jude (8 years old) from England went out on the Láki Tours boat with their parents in February 2017. Right from the beginning of the trip the three showed great interest in the orcas and their names in the on-board ID catalogue. They would ask a lot of interesting questions that even made their parents wonder, and got really excited when they were allowed to name an orca from the catalogue. Their decision to name orca male SN150 was followed by a heated debate on the name, while they were sitting next to the captain in the wheelhouse. In the first hour of the trip, the kids changed the name over and over again, until they finally agreed on Dan's suggestion "Black Ice", which seems just apt for an orca in Iceland. Later on during their tour, they got to see a group of white-beaked dolphins that approached the boat and swam beside them – and the hot chocolate given out was definitely a highlight, too!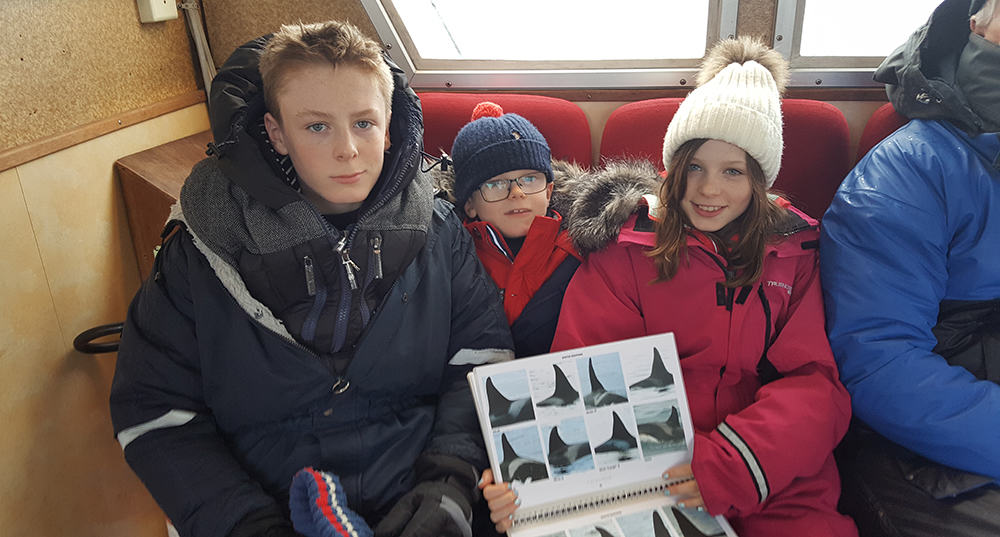 From Left to Right: Dan, Jude and Alannah with the Orca ID Catalogue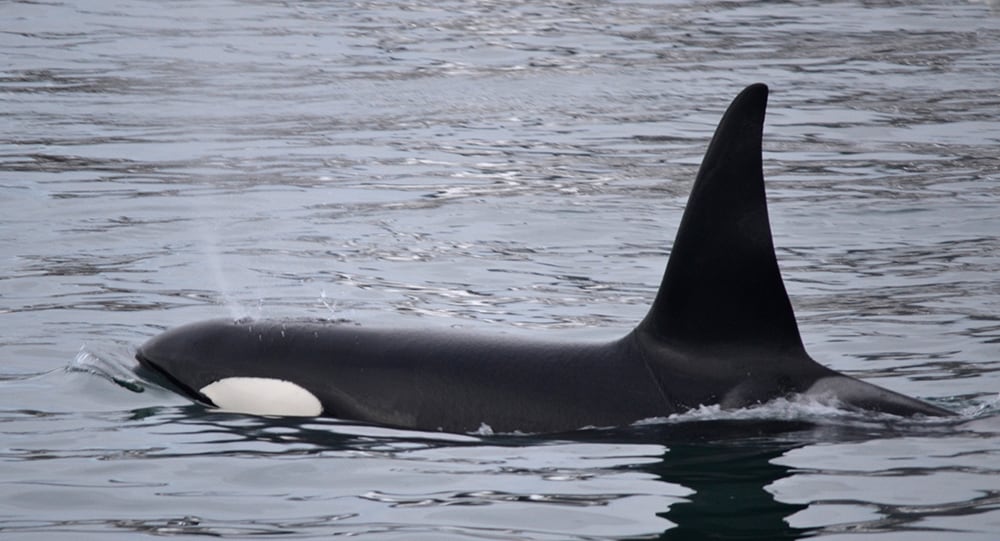 Orca Male "Black Ice" (SN150) in January 2014
Thor and "Töpsó"
Thor (6 years old, from Canada/Québec) visited Grundarfjörður with his mum in July 2016. He is an avid orca fan and wanted to see orcas above all else. Unfortunately, orca sightings in July are irregular. There were no orcas spotted on the tour that Thor and his mum and aunt were on, but they did see a huge group of pilot whales and white-beaked dolphins instead! The evening before the whale watch, they also went on a puffin tour, and even got to see a Minke whale.
Thor was so impressed by these experiences that he became a bit obsessed with the Láki boats and advertising. When asked which bedtime story his mum should read out to him, he answered she should read the Láki Tours flyer! His mother had to read this handout to him for a solid six nights during the week of their visit, and she was not allowed to even skip the contact details on the back. We guess that by now nobody knows the brochure as well as Thor (and his persevering mum).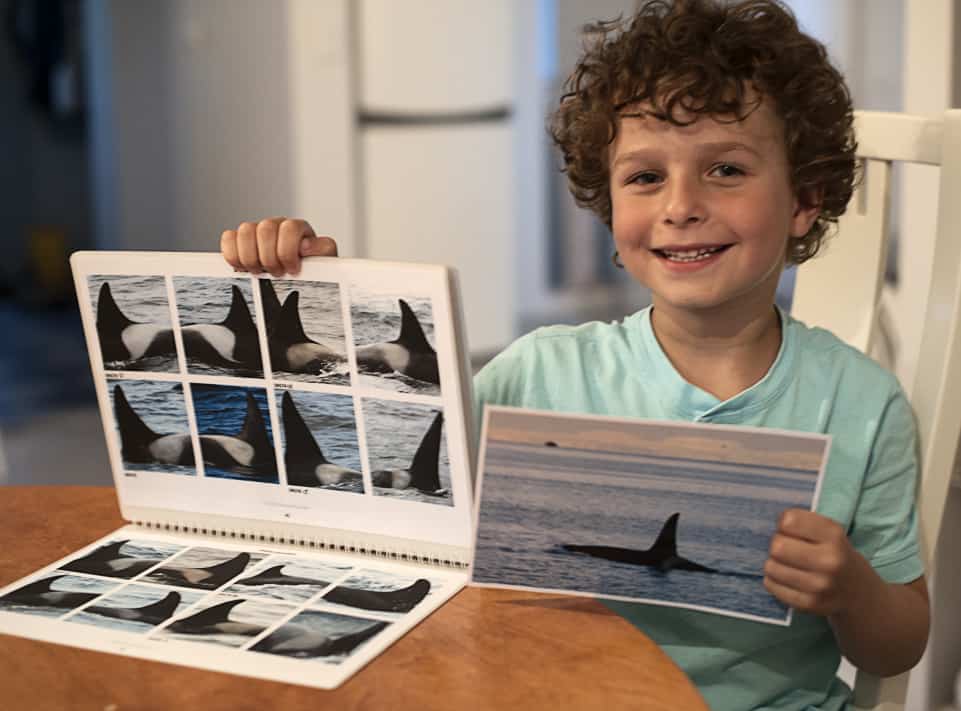 Thor with the Orca ID Catalogue and a Postcard of the Orca Male "Thor" (SN082) That Can Be Adopted
Apart from the newly won knowledge about Láki Tours, Thor also already knew a great deal about orcas when he arrived. His astounding vocabulary as a 6-year-old included the fluent use of words like "marine mammal" or "echolocation". He was super excited to meet up with Marie and talk orcas for a whole evening. While looking through our orca ID catalogue, he even found a mistake (a juvenile was not marked as juvenile on one page)! Well, Thor, we'll have you back anytime to proof-read our catalogue!
For helping us out big time with his knowledge and attentiveness, Thor was allowed to name an orca from our catalogue, and decided to call the orca SN175 "Töpsó". Thor speaks three languages (English, French, and Swedish), but in his own imaginary language "Töpsó" means "sweetheart" or "super sweet creature". A very good pick! (The alternative was "Tusse, the herring slayer"!) We hope that Thor returns to Grundarfjörður one day, for another chance to spot the orcas. (On the right: Riding the newly built orca statue!)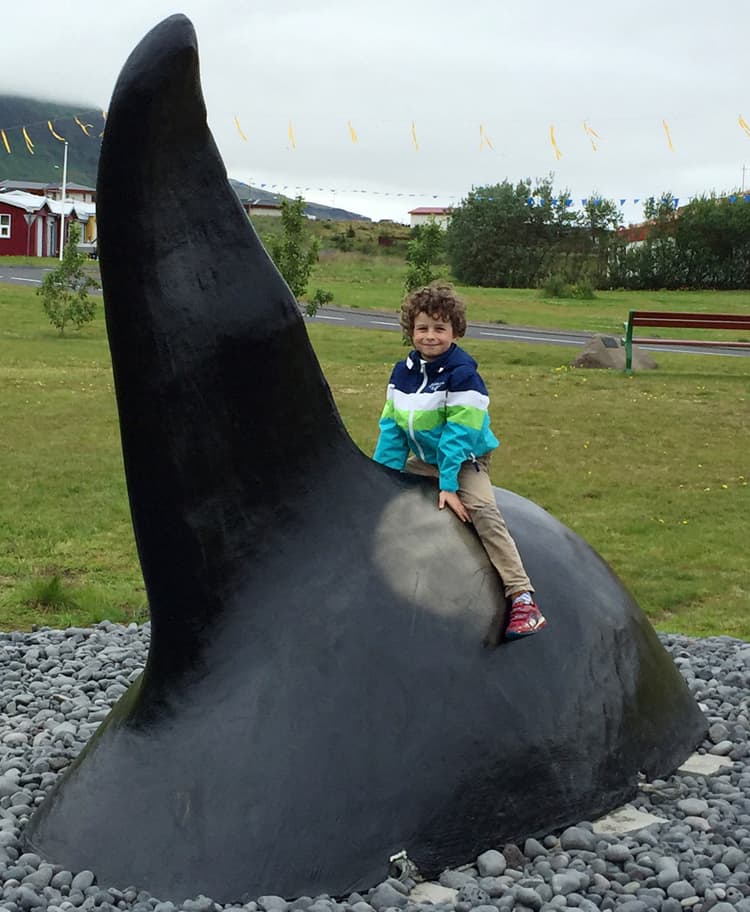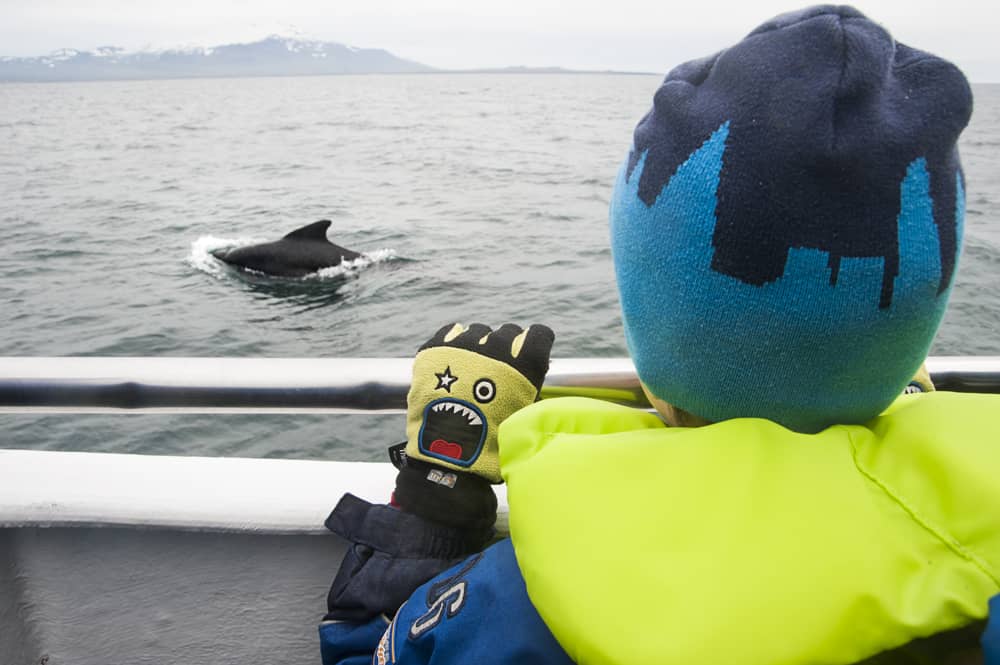 Thor Watching a Big Group of Pilot Whales from the Láki II in July 2016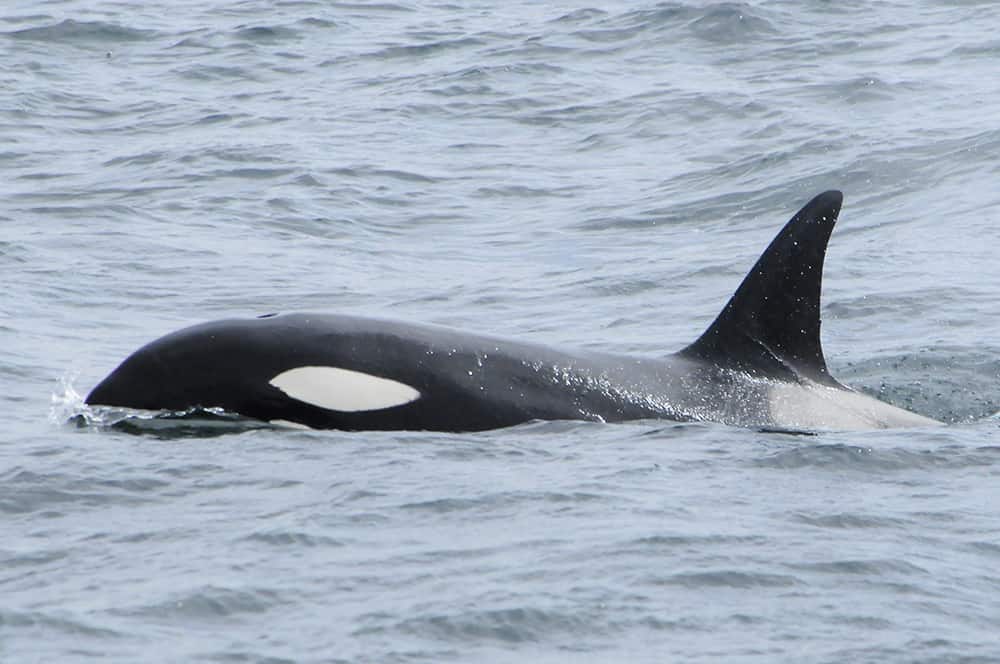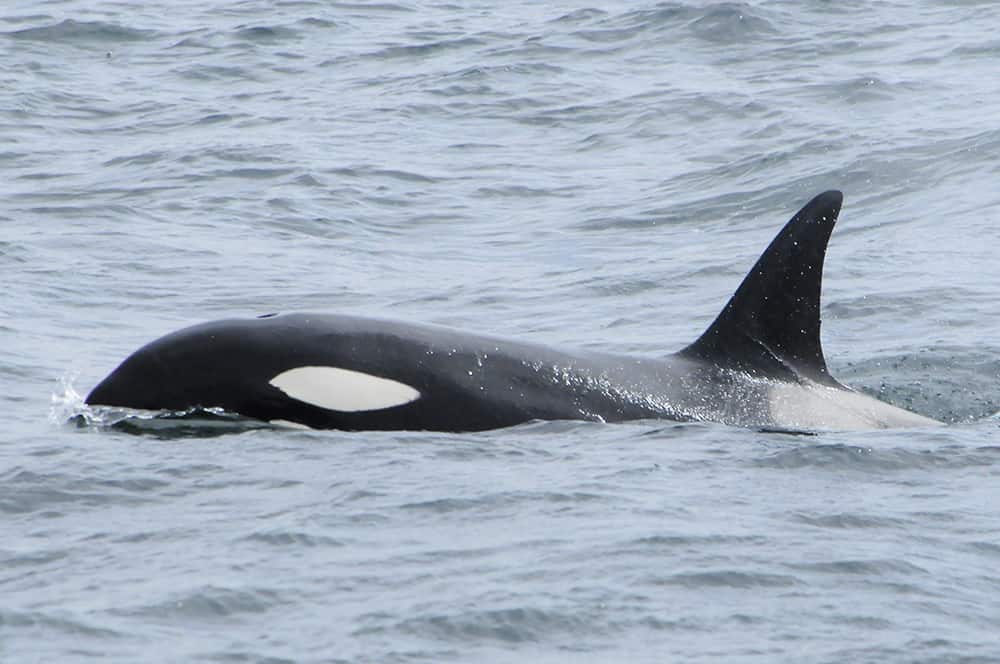 Young Orca Male "Töpsó" (SN175) Visiting West Iceland in June 2015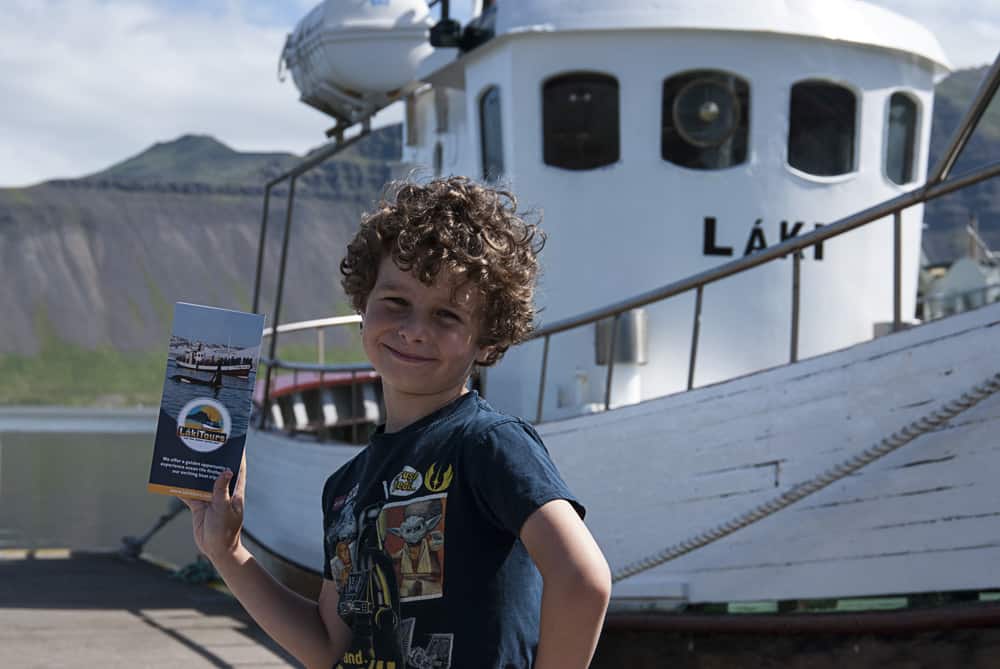 True Model Pose with the Handout in Front of the Láki I, July 2016
Nina, Nils, Till and "Niniti"
Nina (15 years old), Nils (12 years old) and Till (9 years old) from Germany visited Snæfellsnes with their parents in March and April 2015. There were several orca groups in the area at that time, and everyone became hooked on watching these orcas right away – both from land and on the water.
The boys helped Marie with hydrophone recordings during the boat trips, and the whole family would scout for orcas from land in any wind and weather. After hours and hours of patiently waiting in the rain or snow storm (often really early in the morning!) they were rewarded with numerous close and captivating orca encounters from the coast.
The kids had quickly picked "their" orca: SN106, offspring of Aurora (SN105), and a newborn calf at that time. They named it "Niniti", using the first two letters of their own names, and, from then on, were always eager to find out if Niniti was sighted and what was going on with its family.
Nina, Nils and Till loved it so much that they convinced their parents to come back one year later, in April 2016, to try and spot orcas (and especially Niniti) again. They missed Niniti and its family by one day, but had some other great close orca encounters on the boat, and got to see orcas far away when spotting from shore as well.
During both visits in 2015 and 2016, they never got tired of checking with their binoculars from land, day after day, for the orcas to come in. Recently, the whole family adopted Aurora and Niniti. They all hope to come back yet again to watch orcas at Snæfellsnes sometime in the future. Until then, they are rooting for Niniti from home!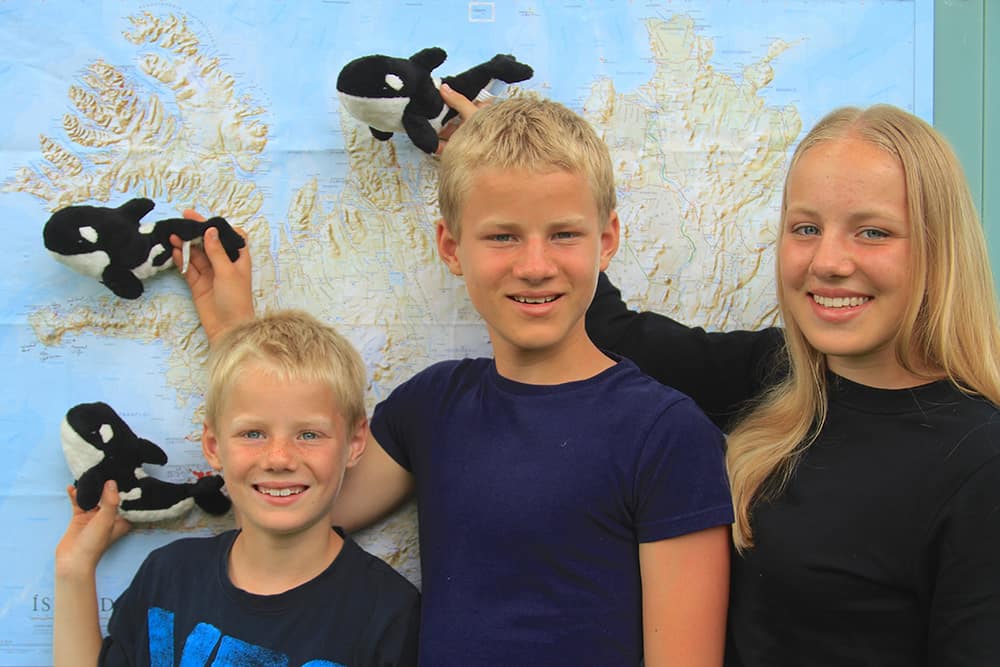 Till, Nils and Nina (from Left to Right) in Front of a Map of Iceland - Note: All Orcas Swim Towards Snæfellsnes!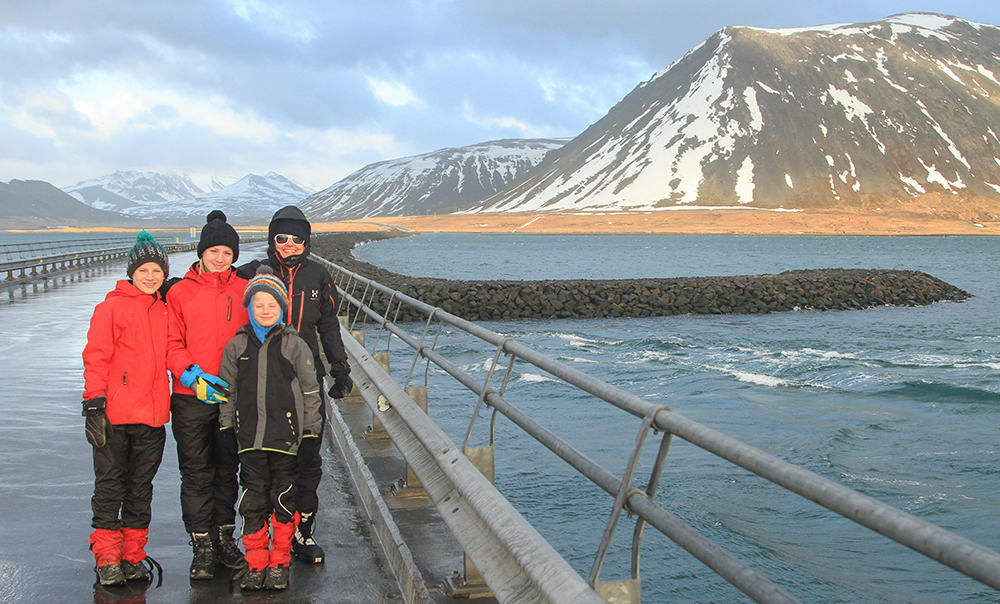 The Kids with Their Mum, Spotting Orcas from Shore in April 2015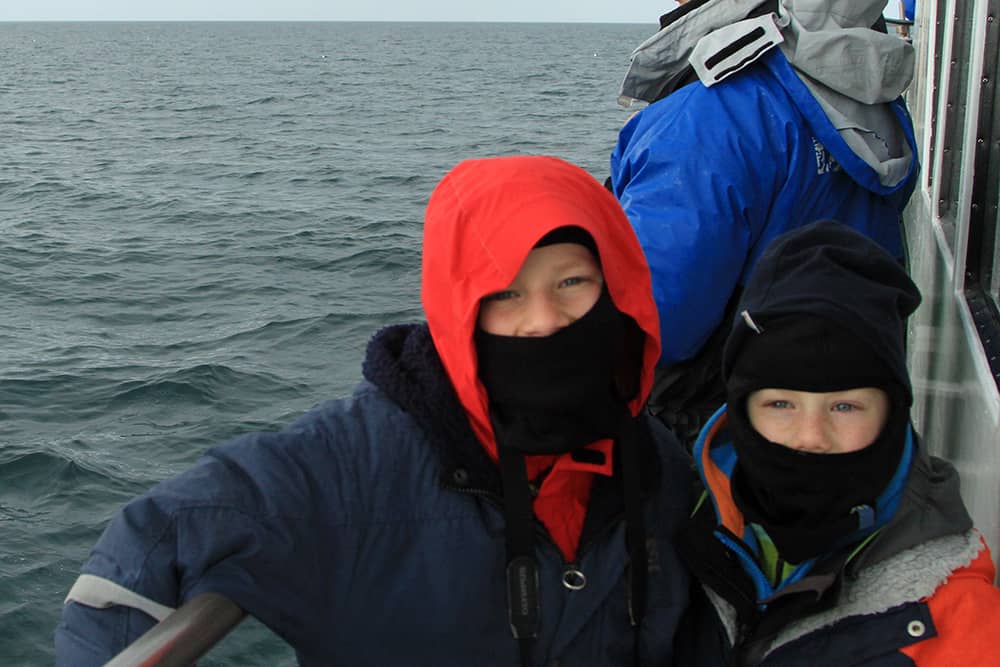 Nils and Till on the Láki Tours Boat in April 2015 - They Came on the Boat Again One Year Later!
"Aurora" (SN105) and Her Calf "Niniti" (SN106) in April 2016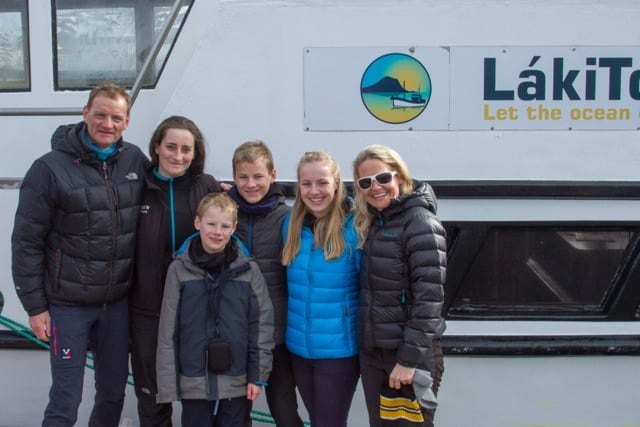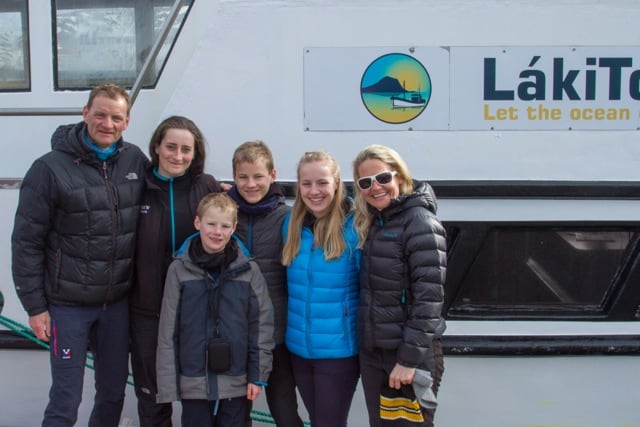 The Whole Family and Marie in Front of the Láki Tours Boat in April 2016
Tobias and "Draak"
Tobias (8 years old, from the Netherlands) went out on the boat with Láki Tours just after Christmas 2015, and got to see his first orcas. He felt so inspired by what he had seen, that he decided to do a presentation about orcas in school, and asked for help from our director Marie. On the 1st of April 2016 he showed up in class with a big inflatable orca, and delivered a very informative and well-explained presentation. Best part? He even finished his speech with a message to the class: Don't throw rubbish into the sea – you could kill an orca!
For this excellent work, we decided to let him name an orca baby. After he had asked all his classmates and family, and changed his mind a thousand times, Tobias decided to call the orca baby "Draak" ("Dragon" in Dutch), as he loves dragons a lot. Great idea!
The orca calf has yet to be added to our catalogue, as it belongs to a group we have only recently encountered for the first time. Tobias hopes to return to Iceland with his family soon to have another orca encounter, and maybe even spot "Draak"!
(On the right: Tobias with inflatable orca just before his presentation.)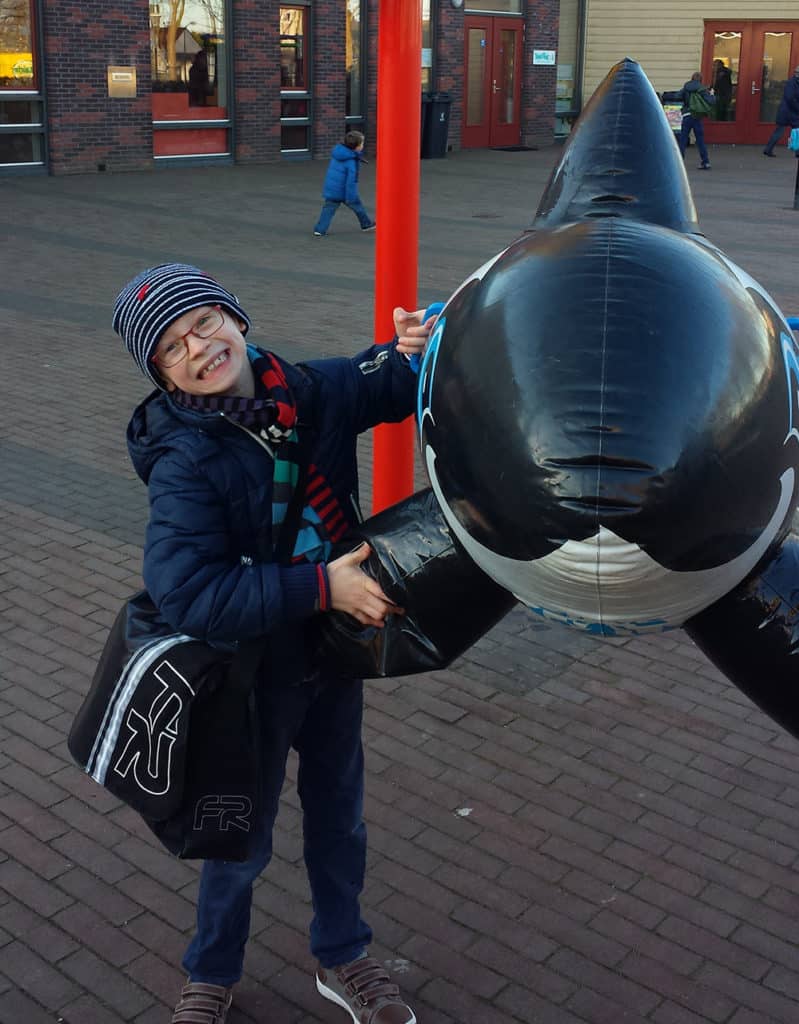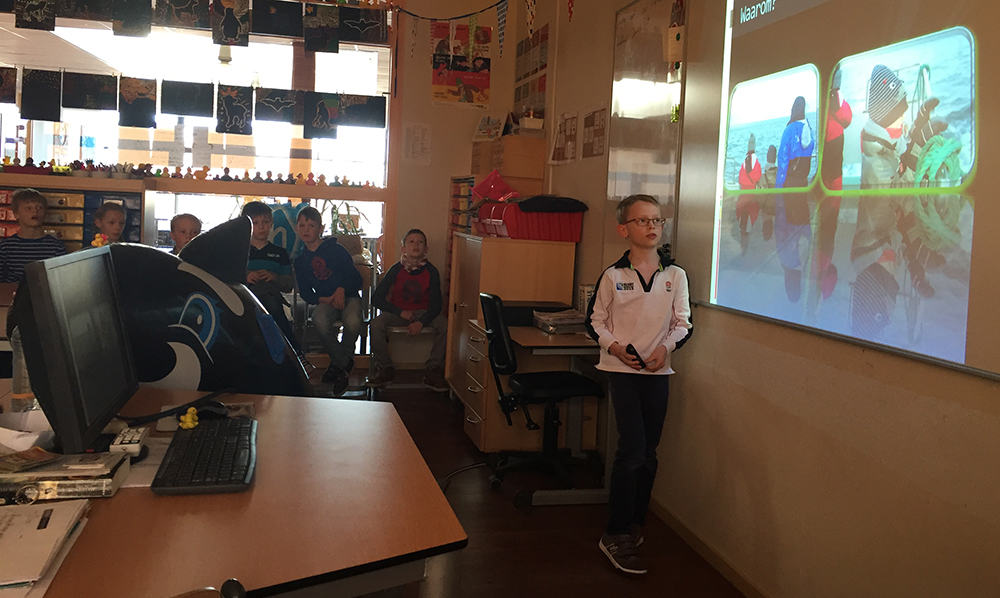 Tobias' Presentation at School, 1st of April 2016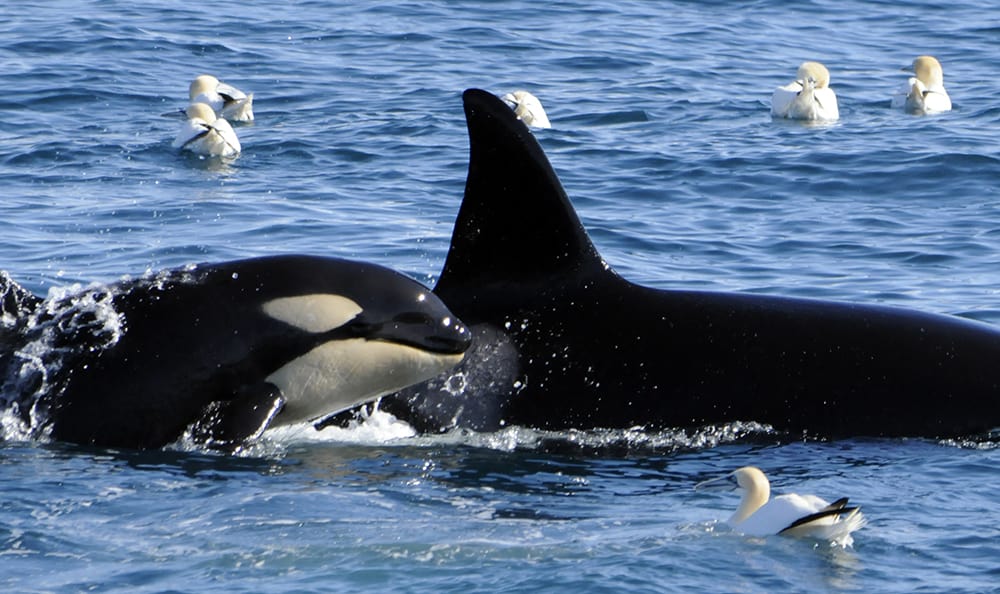 Orca Calf "Draak" and Mum in April 2016
Riley and "Kaktus"
Riley (3 years old, from the UK) is one of the youngest active whale watchers we know. He was about to go on the boat with his parents in January 2015, when the tour got cancelled due to bad weather conditions. Marie took him and his parents to watch orcas from land, but poor Riley could just so much as hold the binoculars straight, let alone see the orcas through it. He waited patiently for two hours while his parents were watching, and was trying several times to spot the animals without success. Riley was the politest little man, and he never even showed a glimpse of boredom! When Marie asked him on the way back, what name he would give to an orca, he said without hesitation: "Cactus!" – So here we are, young orca male SN167 is now called "Kaktus" (the Icelandic version of the word).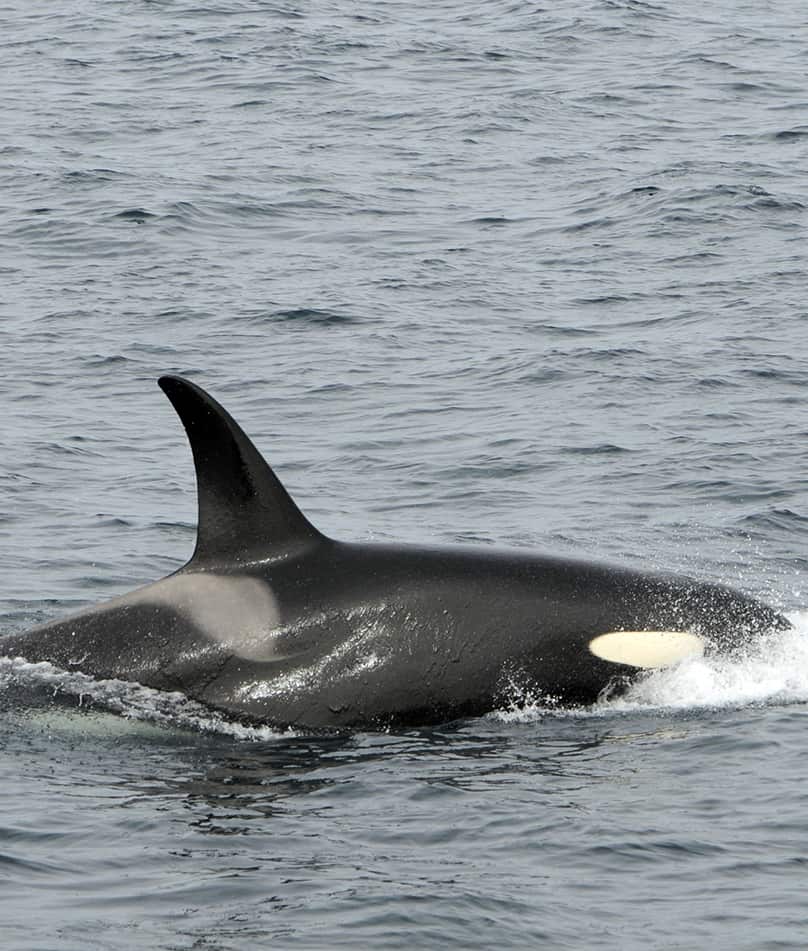 Young Orca Male "Kaktus" (SN167)